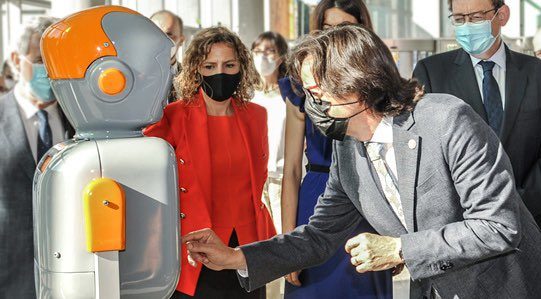 The Institute for Telecommunications and Multimedia Applications (iTEAM) on June 7, 2021, organized the V5G Day event at the Valencia Conference Centre, the largest 5G event in Spain in which the latest 5G advances applied mainly to the industry were presented. And one of the great protagonists has been the R5G2, a 100% Valencian social robot, which emerged from the iTEAM-UPV laboratories, Fivecomm, and Robotnik companies.
The R5G2 is equipped with different sensors and cameras, interconnected with each other. Thanks to the low latency and huge bandwidth of 5G, it can interact with its environment and perform tasks in real time.
In addition, a connected autonomous vehicle has also been presented that will contribute to improving the efficiency of industries, or a remote diagnostic robotic arm that allows you to experience the "tactile internet".
Read the full article in Spanish here.