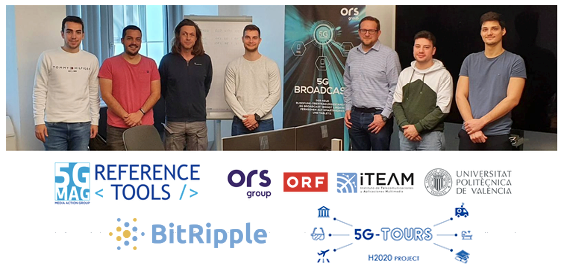 From left to right: Aarón Montilla, Álvaro Ibañez, Klaus Kühnhammer, Stefan Babel, Johann Mika, Jaime Sánchez, Fabian Bottesch
A team of researchers from iTEAM-UPV supported by ORS has accelerated the implementation of several 5G-MAG Reference Tools components during a workshop hosted by ORS in Vienna.
The workshop (21st to 24th February, 2022) has served to develop an SDR prototype, more concisely a 5G Broadcast transmitter compliant with the 3GPP LTE-Based 5G Terrestrial Broadcast specifications. In addition, work was done to implement RaptorQ with BitRipple media delivery solution to enhance the robustness of the broadcast transmissions. The SDR prototype will be tested in the H2020 project 5G TOURS, under use case 4 (High quality video services Distribution).
The SDR prototype is available within the 5G-MAG repositories, specifically, in Reference Tools repositories (www.github.com/5g-mag). A demo is shown in the video below.
The software-defined radio equipment used throughout the workshop was acquired thanks to the project,  Pilot Test Campus, Development and Demonstration of 5G Mobile Technologies for the Internet of Things and Connected Machines Applied to Logistics (VLC-CAMPUS-5G II), granted by the Generalitat Valenciana, co-financed by the European Union through the operational program of the European Regional Development Fund (FEDER) of the Comunitat Valenciana 2021-2022, with reference IDIFEDER/2021/088.